Get More for Less With a 2017 Honda Accord Sedan in Tampa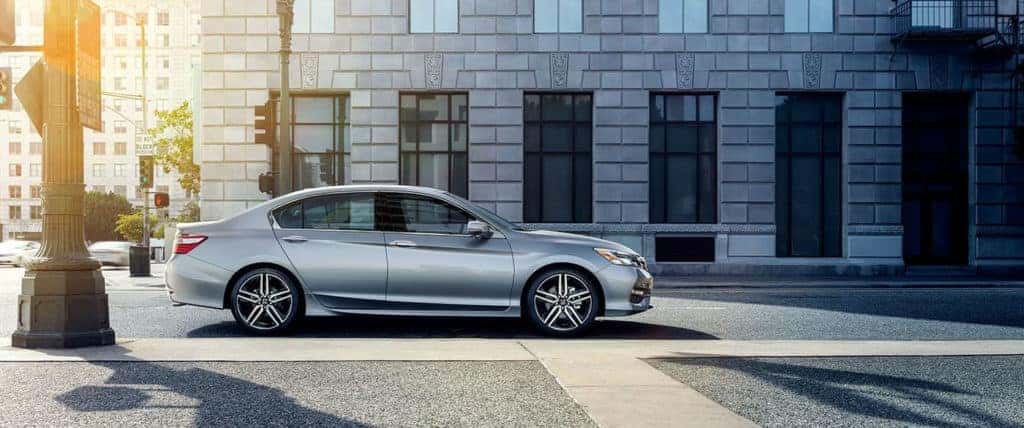 If you like getting more for less for your hard-earned money, then you'll appreciate the 2017 Honda Accord. Just arriving at Wesley Chapel Honda, this sleek sedan celebrates its 40th anniversary by carrying on its four-decade tradition of providing premier-car-like features at a value price.
Sophisticated and bold is a good way to describe the new look of a 2017 Honda Accord sedan from your local Tampa Honda dealership. The new look headlights and taillights are striking and bold and give a vibe closer to luxury cars than to entry level sedans.
Low price, high value
Listed at an amazingly-affordable starting price of $22,355 for the four-door version of this popular car, the 2017 Accord sedan surprises with the amount of tech like a multi-angle rearview camera included as standard equipment. Consider the add-ons and option packages and this car becomes a steal at its price point!
Step up to a Touring trim of the 2017 Honda Accord from Tampa Honda dealers and you'll benefit from parking sensors and rain-sensing windshield wipers that take the guesswork out of things.
Safe
The 2017 Accord keeps you and your passengers safe with its advanced body design that distributes crash energy more evenly throughout the frame. Additionally, this fantastic four-door will monitor your traffic lane and objects in front of you and will alert you if your car is in danger of leaving the road or colliding with any of those detected objects. It also monitors the air pressure in your tires and alerts you when any is out of balance.
A transmission without gears
The latest Honda Accord sedan gets you in gear by removing the gears and instead using a Continuously Variable Transmission (CVT), which provides a smoother performance and acceleration without any gears. Don't worry, the power is still there. In fact, the 4-cylinder engine provides 185 horsepower in the Accord LX, EX and EX-L trims, while the Accord Sport trim provides 189 hp and adds fun sport handling.
Plus, it is efficient. The Accord's CVT will produce fantastic fuel efficiency up to 36 miles per gallon on the highway* and 27 mpg on city streets.* So, it continues to save you money for years and years to come.
So what are you waiting for? Visit Wesley Chapel Honda in Florida and put the 2017 Honda Accord to the test with a test drive today. There's 40 years of proven experience built in, so you know it can handle your lifestyle like a boss.