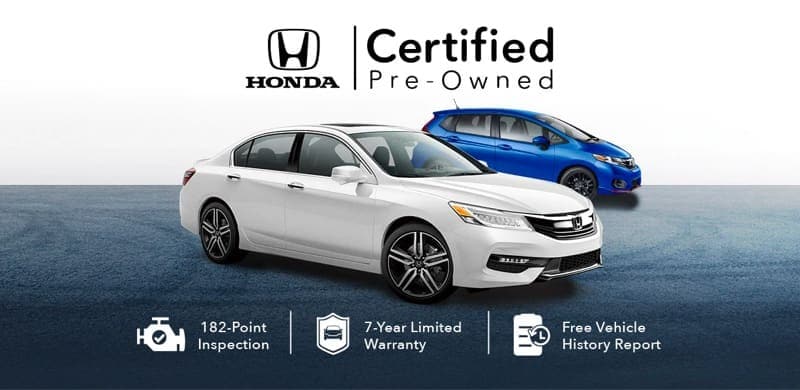 Certified Pre-Owned
Nothing compares to the quality of a Honda. No other program comes close.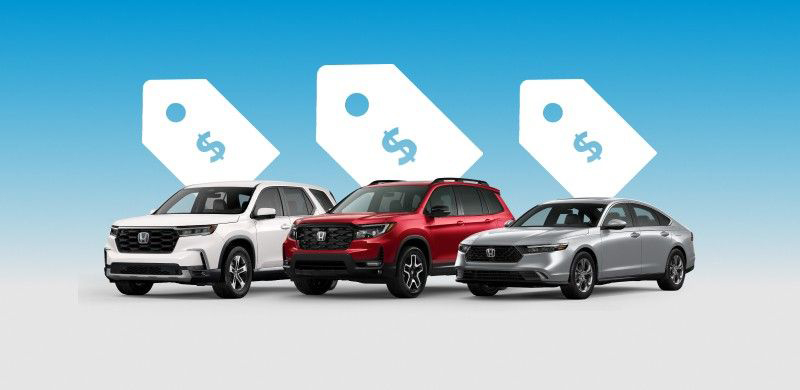 Current Offers
See this month's featured current offers going on now on new Honda vehicles.
Our Reviews
The sales people are very knowledgeable and very accommodating and are willing to talk and try to make you feel like they care about you
Great Experience! Salesman Ryan Mehmi really helped me find just the car i needed and the whole team made me feel important and guided me through the car buying process! Thanks guys!
Friendly, caring and want to help and work for you. Sales person was not pushing understood my needs and stayed with Mr until I walled out the door with my new car. Highly recommend them
Jacob Garrison went above and beyond to make us comfortable and put us in the car we really wanted. I recommend not only this dealership but ask for Jacob Garrison!
Jalen Neira is a nice sales person, I bought a Honda Insight. I'm very satisfied with the dealer.
Brought our two Civics in for service. We always setup our appointments with Estherlin R. She is extremely helpful and knowledgeable, and always goes above and beyond to assist the customer. She works with you and clearly explains the issues, if any, and what is truly needed and what can be delayed, leaving it up to the customer to decide how they want to proceed. Great experience, as always, with her. Wesley Chapel Honda should be extremely thankful that they have an employee of her caliber on their staff.
Andy and garret were great. Very helpful and informative. Would recommend for sure. Thank you
Rianne was the best salesWOMAN that I have came across in my search for a vehicle. She is truly a doll, if you dont know where to start. Start at Honda with RIANNE. SHE IS MARVELOUS !!!
Joey Lyman is a Top of the Top Exceptional Sales Professional. He helped my daughter get out of her Lease and get her into a low mileage used vehicle even when she was told from prior Sales person that she was not able to get out of her lease. Joey was very attentive to her needs and got her exactly what she was looking for. He did not sell her what he wanted to sell her, but what my daughter wanted, to me that's an A+++ rating for Joey. He also bought my car and helped me get into a new 2022 Honda. He is not one of those pushy sales persons who pushes you into a car that you are not interested in, he actually listens to all your needs and wants in a car and delivers. Trust me, Joey will be getting referrals from me as I know he will treat everyone I send with RESPECT. I would recommend Joey to everybody and anybody that is looking for a true honest Sales Professionals! HE IS THE BEST!
I need to apologize Yamira, because even though she did not negotiate the car with me, she had the mission to deliver it to me. As a result of a misunderstanding with Jose Gutierrez from the financial department she was damaged in the sales goals. Yamira has always been very willing to help me.
Received service from a young gentleman named Shuyler. Very highly recommended and very highly satisfied.
Thank you Wesley Chapel for yet another great customer experience x 5 (cars)! I just purchased a beautiful 2019 CRV that I am so excited about. I didn't think I would be able to afford a vehicle with so many options, newer and such low mileage. If I could give Renaldo 100 stars - it wouldn't be enough....he was awesome! Such a sweet guy that really listened to what was important to me in a vehicle, found one that totally exceeded my "wants" and went to bat for me on pricing. There was no back and forth haggling (everyone hates that!) - they worked magic with the numbers and I drove away in my dream vehicle. Probably the best and easiest buying experience I've ever had. As always - I will refer anyone and everyone to Wesley Chapel Honda. They have always been incredible with customer service, providing reliable vehicles that I feel safe in and I never walk away with buyer's remorse (as I have in the past). I am just thrilled with my new vehicle and very happy with the payment terms. Renaldo - thank you for all of your hard work and making this such a great experience for me!
I had another awesome experience at Wesley Chapel Honda. Mo Albaxxxxi has been the greatest representative for Honda. He makes car purchasing a simple task. He assisted my wife with her new Honda Pilot about a year ago, my youngest son with his first car purchase about 6 months ago and now has helped me acquire my new Honda Accord. Thanks again Mo and team for your help!!!
wesley chapel honda gets 5 stars. for the great job they do. from the sales staff, service, parts and finance. bruce briggs gets 10 stars. for his honesty, knowledge of the product, and fighting to get me the best deal. which he did. made my wife and i very happy. we will buy all our vehicles from wesley chapel honda. as long as bruce briggs is our salesman.
Bruce Briggs was very knowledgeable. He made sure we felt comfortable, found something with everything we were looking for and made it an easy and enjoyable experience. We love our new Honda
I had both of my cars serviced here with Neil this week 04/14-15/2021 as my contact. He was great to work with and made everything easy
Ryan, Mo and the team did a superb job! We were in and out in no time. My daughter is very happy with her Brand new HONDA CIVIC SPORT! I'll be back and recommend people daily to WESLEY VHAPEL HONDA!! Great experience!!
I have been doing business with them for several years and they always make me feel very comfortable with the whole process! My kudos to Wesley Chapel Honda for having a great team of very devoted people!!! Yesterday I got a new HR-V for my daughter and as usual, very very happy with their service! Special thanks to my friend Ryan Nazir, sale person Hatem Shahwan, finance Sharrod Hill. Go visit them and you will be another happy customer as I am! Mark
One of the most professional and easiest ways to buy a car. Mr. Briggs helped me through the process he did outstanding work . thank you all . I will be buying all my vehicles through them.
Good experience overall. Facility is beautiful. Car options were good. Sales negotiating was smooth. The finance department was my main reason for the 4 star review. The Manager is an D***. I think his name is Dan? His associate Kurt was pleasant.
We were very pleased with Karley Barnes and the great service that she provided. Also Kurt Mathieson in finance was extremely helpful in getting a good rate at a bank. We were able to drive out that day with a beautiful car. We would highly recommend this Wesley Chapel Honda dealership to our family and friends as it was recommended to us by our neighbor. C & E Aquilino
Great service. I was helped by karley and she was great. Helped me drive out with a car I love. Great quality help and showed she truly cared.
Our Salesperson, George, was outstanding. She did things for us that no other sales person has ever done. I would promote her to manager if she was working for me.
First of all BIG UPs to the awesome BILL JAMES, that in my opinion runs best service department in all Florida. Hi my name is Will and I own a 19 TYPE-R. Once again service at WESLEY CHAPEL HONDA has served me as always in an awesome way. I had some big concerns with my car and some damage due to a critter that destroyed my entire skid plate that had me worried sick. BILL JAMES, JACOB RABBAT and his awesome team OF EXELENT MECHANICS right away put me at ease ensuring me that my baby was gonna be well taken care of and sure enough they did just as promised my TYPE-R feels even smoother and more powerful than ever before, they did my transmission service and oil change service and replaced a tire that I had no idea had a nail. Jacob did a great job of keeping me informed on the status of my car and made sure I was very comfortable. when I was out looking at other vehicles in the big lot he came out looking for me to make sure I knew what was goin on and the steps that were being taken to improve my cars health and fix the problems I was worried sick about. now I have 2 favorite service advisors I know care a great deal about my baby and that keeps me worry and stress free. my service advisor is ESTHELIN RODRIGUEZ which was off on TUE. she is a very awesome service advisor that I absolutely trust and now I am supper happy knowing that if she isnt there on a day that I happen to show up that she has a twin there with an extensive and real experience in service and customer care and from what I can see is super intelligent and just knows his stuff. So guys I just want to thank you from the bottom of heart and special thanks to a GREAT LEADER (BILL JAMES) for your honesty and hospitality and truly making me feel at home and like FAMILY... GOD BLESS you all!!! your my team. TYPE-R- LIFE
Recently I contacted Wesley Chapel Honda with questions regarding a new car. I was assigned to Joey Lyman. Joey contacted me but I was unable to meet with him. I actually ended up buying a different brand of car. When Joey contacted me again I explained the circumstances and he was most gracious. I even received a letter from Justin Hann, the General Manager. The customer service was so great from a dealership that I did not buy from, that I can only imagine how good it would have been had I purchased a car from them. That ranks really high with me and I certainly will plan to visit with them in a few years for my next car. Five stars all the way.

Welcome to Wesley Chapel Honda
Wesley Chapel Honda – Your Trusted Tampa Bay Honda Dealer
If you're looking for Tampa area Honda dealers or a Honda dealership near Spring Hill FL, visit Wesley Chapel Honda! Whether you need a new vehicle or you want to save with a used vehicle, you'll find that we don't compromise on the quality of our cars or our financing services. Learn more about our new and used car dealer in Wesley Chapel FL below, then contact our team to visit our showroom and take a test drive around Brandon in your favorite Honda model!
A Wide Selection of Honda Models: New & Used
Finding the right Tampa area Honda dealer can seem overwhelming at first, but shopping at our new and used car dealer in Wesley Chapel FL takes the guesswork out of the car buying process. With our extensive new and used car inventories, you'll be able to find the right sedan, truck, or SUV that fits your Land O' Lakes needs. You can even save on your next vehicle purchase when you trade-in your current vehicle at our Honda dealership near Spring Hill FL. Browse our online inventory today, then explore your favorite Honda model up close in our online model showroom to see its features, trim levels, and different color options for your Tampa commute!
Affordable Honda Leasing & Financing
After you've browsed our online inventory, it's time to visit our finance department. Our expert financial staff will help you find the right loan or lease plan for your budget, then we'll get to work contacting our group of lenders to help you get the best terms possible for your plan. Browse our new vehicle special to see how much you can save on your next Honda purchase, then fill out our online finance application to start the car buying process.
We Support the Wesley Chapel Community
At our new and used car dealer in Wesley Chapel FL, we believe in supporting our local community. Through significant investment of volunteer resources and charitable donations, we want to help make our Zephryhills to Spring Hill area communities last for generations to come. Wesley Chapel Honda is proud to support St. Joseph's Children's Hospital of Tampa, Metropolitan Ministries, Habitat for Humanity, and the Ronald McDonald House.
Read More
Get Directions To Wesley Chapel Honda